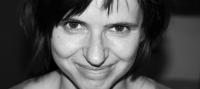 Research Fellow, PhD, Head of the institute
Research interests
Research interests:
Mojca Kovačič is an ethnomusicologist. Through studies of folk singing, instrumental music and contemporary musical and sound phenomena, she examines the principles of the musical or sound structures, of the musical performances as well as she highlights its relations to social and political contexts, such as: music and gender, nationalism and music, cultural policy, processes of contemporary folklorization and the concepts of popular music, music and identity. In recent years, she has mostly focused on issues of urban soundscapes, street music, and religious sound in contemporary urban space, urban politics and experiential aspects of perception of sounds. She is also a lecturer at the Academy of Music, University of Ljubljana, for the course The introduction to musical folkloristics, module Slovenian folk music heritage.
Reseach and pedagogical activites abroad:
research fieldwork in Germany, Italy and Croatia (2006, 2007),
academy exchange programme with the The Royal Scottish Academy: research work and lectures at the University of Edinburgh, Scotland (2009),
research fieldwork in Cleveland, USA (2013).
Teaching experiences:
lecturer of the courses Music Folkloristics: An Introduction and Instrumental Folk Music and Folk Dance, module Slovenian Folk Music Heritage (Masters study programme, 2nd cycle Bologna programme) at the Academy of Music, University of Ljubljana,
Membership and functions in societies:
from 2005: member of the International Council for Traditional Music (ICTM),
from 2005: member of the ICTM Study group form Musical Instruments
from 2006: professional counsellor for folk music at the Republic of Slovenia Public Fund for Cultural Activities (JSKD)
national representative for the ICTM,
from 2007: member of the ICTM Study group Music and Minorities and the ICTM Study Group on Music and Dance in Southeastern Europe
from 2011: national representative for the ICTM
from 2011: member of the management board of Cultural and ethnomusicological Society Folk Slovenia,
from 2013:  member of the Slovenian Ethnological Society
from 2014: member of the ICTM Study group for music of the Slavic speaking world
Selected publications
Slovar zvonjenja in pritrkavanja / Dictionalry of Bell ringing and bell chiming. Ljubljana: Založba ZRC, 2017.

Akustemologija zvonjenja v urbanem prostoru / Acoustemology of bell ringing in urban space. Glasnik Slovenskega etnološkega društva, 2016, 56, št. 1/2, str. 53-63.

"Sacred noise" : the case of the ezan in Ljubljana /"Duhovni hrup" : primer ezana v Ljubljani. Muzikološki zbornik, 2016, zv. 52, [št.] 2, str. 25-38.

"Kje so ljudski godci?" : refleksija preteklih konceptov in možnosti novih opredelitev ljudskega godčevstva / "Where are the folk musicians?": Examination of past concepts and possibilities for a new definition of folk instrumental music. Glasnik Slovenskega etnološkega društva, 2014, 54, št. 3, str. 12-20.

V deželi harmonike - nacionalizacija harmonike v slovenskem kontekstu /In the 'accordionland' - the nationalization of the accordion in the Slovenian context. MLEKUŽ, Jernej (ur.), et al. Venček domačih: predmeti, Slovencem sveti. 1. izd. Ljubljana: Založba ZRC SAZU. 2015, str. 87-116.

Pa se sliš --- : pritrkavanje v slovenskem in evropskem prostoru / Bell Chiming In The Slovenian And European Space (Zbirka Folkloristika, 5). Ljubljana: Založba ZRC, ZRC SAZU, 2012.

In search of the "folk character" we would like to hear. The dichotomy between folk, the profession, and the scholarship / Iskanje ljudskosti, ki bi si jo želeli slišati, ali razpetost med ljudskim, stroko in znanostjo. FIKFAK, Jurij (ur.), FOURNIER, Laurent Sébastien (ur.). The interplay of performances, performers, researchers, and heritages. Ljubljana: Institute of Slovenian Ethnology at ZRC SAZU, ZRC Publishing. 2012, str. 77-90.
All publications (COBISS) >>
Curriculum Vitae
Education:
BA, Academy of Music, University of Ljubljana (2002)
PhD, Intercultural Studies – Comparative Studies of Ideas and Cultures, University of Nova Gorica, (2009)
Employment:
Highschool for educators and gymnasium Ljubljana (2001-2004)
Insitute of Ethnomusicology ZRC SAZU (2005-)