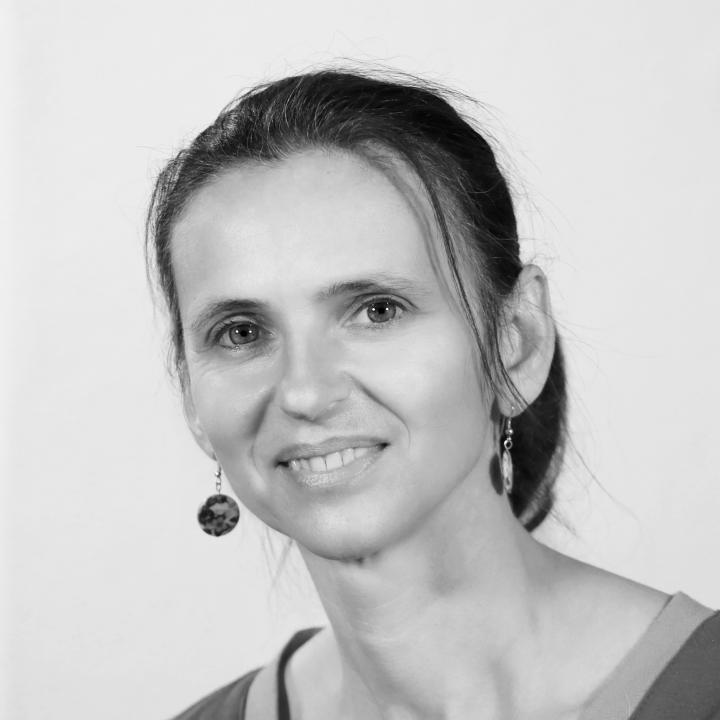 Mojca Kovačič, PhD
Research Associate, PhD, Head of the Institute
+386 1 470 62 72
Mojca.kovacic@zrc-sazu.si
Research interests:
Mojca Kovačič is an ethnomusicologist interested in cultural, social and political aspects of all kinds of music and sound expressions. Through studies of folk song, instrumental music, and contemporary music and sound phenomena, she explores the principles of musical structures and performances and illuminates their relationships to issues such as gender, nationalism, cultural politics, folklorization, identifications, migrations and minorities. In recent years, she has focused more on the study of urban soundscapes, particularly in terms of how they are perceived by audiences and the role of national and local politics in shaping them. She has broadened her studies of sound/music perception by understanding the affective potentials of sound, which include both the physical experience of the listener and its intertwining with social, historical, personal, and political aspects.
She is a head of the Institute of Ethnomusicology and a lecturer of the module Slovenian Folk Musical Heritage at the Academy of Music, University of Ljubljana, as well as an occasional guest lecturer at other faculties and departments. She has a lot of experience with research and applied projects, both in leading and coordinating projects where ZRC is a partner institution, and regularly organizes international scientific symposia. In her career, she has been a guest editor of scientific journals and a member of the international editorial board, and has presented her research at numerous international conferences. She is also the national representative of ethnomusicologists in the international ethnomusicological society ICTM.
Reseach and pedagogical activites abroad:
research fieldwork in Germany, Italy and Croatia (2006, 2007),
academy exchange programme with the The Royal Scottish Academy: research work and lectures at the University of Edinburgh, Scotland (2009),
research fieldwork in Cleveland, USA (2013).
Teaching experiences:
lecturer of the courses Music Folkloristics: An Introduction and Instrumental Folk Music and Folk Dance, module Slovenian Folk Music Heritage (Masters study programme, 2nd cycle Bologna programme) at the Academy of Music, University of Ljubljana,
Membership and functions in societies:
from 2005: member of the International Council for Traditional Music (ICTM),
from 2005: member of the ICTM Study group form Musical Instruments
from 2006: professional counsellor for folk music at the Republic of Slovenia Public Fund for Cultural Activities (JSKD)
national representative for the ICTM,
from 2007: member of the ICTM Study group Music and Minorities and the ICTM Study Group on Music and Dance in Southeastern Europe
from 2011: national representative for the ICTM
from 2011: member of the management board of Cultural and ethnomusicological Society Folk Slovenia
from 2013: member of the Slovenian Ethnological Society
from 2014: member of the ICTM Study group for music of the Slavic speaking world

from 2019: member of the ICTM Study group for multipart music.
Identifications through musical expressions of Africanness in Slovenia. Muzikološki zbornik. 2019, zv. 55/ 2: 65-78.

Music, migration and minorities : perspectives and reflections/Glasba, migracije in manjšine : perspektive in refleksije. Muzikološki zbornik. 2019, 55/ 2: 5-17.

Kako naj zveni mesto?: religijski in ulični zvoki Ljubljane med zakonodajo in človeškim izkustvom. Etnolog: glasnik Slovenskega etnografskega muzeja. [Nova vrsta]. 2018, 28 /79: 123-140.

Official regulations and perceptual aspects of bell ringing. Muzikologija: časopis Muzikološkog instituta Srpske akademije nauka i umetnosti. 2017.

EducOpera in Slovenia : compretence and artistic approach through the creation of opera by youngsters and for youngsters. In: KOVAČIČ, Mojca (ed.), et al. EducOpera : an education to opera as a method of reducing early school leaving. Massy: Opéra de Massy, 2019: 86-97.

Slovar zvonjenja in pritrkavanja / Dictionary of bell ringing and bell chiming. Ljubljana: Založba ZRC, 2017.

Akustemologija zvonjenja v urbanem prostoru / Acoustemology of bell ringing in urban space. Glasnik Slovenskega etnološkega društva, 2016, 56(1/2): 53-63.

"Sacred noise": the case of the ezan in Ljubljana /"Duhovni hrup": primer ezana v Ljubljani. Muzikološki zbornik, 2016, 52/2: 25-38.

"Kje so ljudski godci?" : refleksija preteklih konceptov in možnosti novih opredelitev ljudskega godčevstva / "Where are the folk musicians?": Examination of past concepts and possibilities for a new definition of folk instrumental music. Glasnik Slovenskega etnološkega društva, 2014, 54/ 3: 12-20.

V deželi harmonike - nacionalizacija harmonike v slovenskem kontekstu /In the 'accordionland' - the nationalization of the accordion in the Slovenian context. MLEKUŽ, Jernej (ur.), et al. Venček domačih: predmeti, Slovencem sveti.Ljubljana: Založba ZRC SAZU, 2015: 87-116.

Glasbena podoba ljudske pesmi v rokopisnih, tiskanih in zvočnih virih v prvih desetletjih 20. stoletja. 1. izd., elektronska izd. Ljubljana: Znanstvena založba Filozofske fakultete, Zbirka Glasba na Slovenskem po 1918, 2015.
Education:
BA, Academy of Music, University of Ljubljana (2002)
PhD, Intercultural Studies – Comparative Studies of Ideas and Cultures, University of Nova Gorica, (2009)
Employment:
Highschool for educators and gymnasium Ljubljana (2001-2004)
Insitute of Ethnomusicology ZRC SAZU (2005-)